About us
Eva

After some moving around as a child the summer breaks on grandmothers farm in Skåne turned permanent when our family moved there in 1979. 1996 I finally moved to Fölshult after a number of years in an appartment in Hässleholm. I am an engineer but 1994 my pain and aches were diagnosed as fibromyalgia and then also as hyperthyreos and EDS which means that I am not able to work.

Ingvar

His relatives have lived on the same place för generations. The farm research shows, but for a gap where we can´t find any documentation on, the farm has been passed down in his family for over 200 years! Ingvar works in the building sector and manages the fram on nights and weekends.

Elina

Our daughter is born in 2002 and lives in Gothenburg theese days but comes home from time to time. Mostly, I suspect, to spend time with the animals but she is starting to be quite thankful to cook for ;)

She is studying for a bachelors degree in economics at the Handelshögskolan of Gothenburg university and don´t have time for much else but studying and meet with friends.

.
And of course a numer of animals:
The horses which are two friesians and born here on the farm.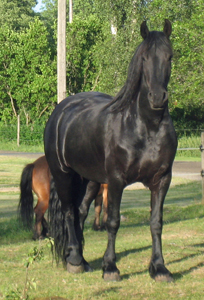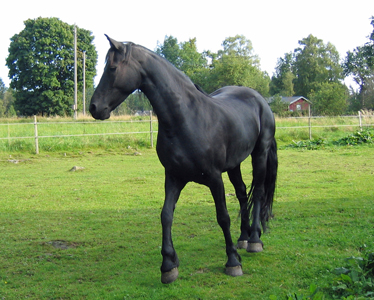 Above to the left is Fransje af Fölshult (f Remmelt 323, mf Jildert 299) and to the right her half sister Liesje af Fölshult (f Otte 375, mf Jildert 299) both daughers of our intensly loved but sadly deceased ster mare Welmoed V. (Se under Contact for photoes of her!) (The little brown shettland seen behind Fransje is Zingo who lived with us for 19 years, but is now grazing on the ever green pastures.)
During the summer we have the privilege to reside a small flock of cows, usually five or six mothers with their calves and a bull.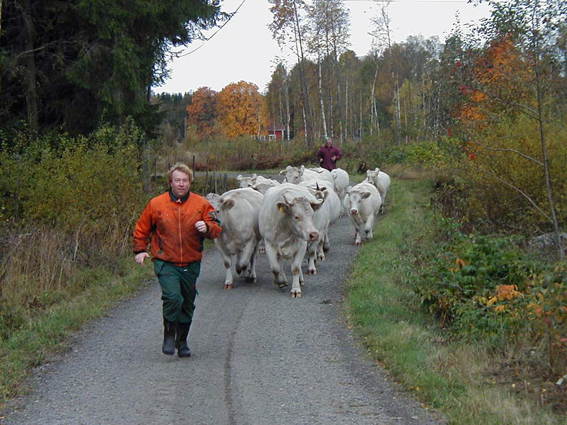 We also have hens. This summer we have these little flyffy balls to look after. Below you see our rooster who has longed for company.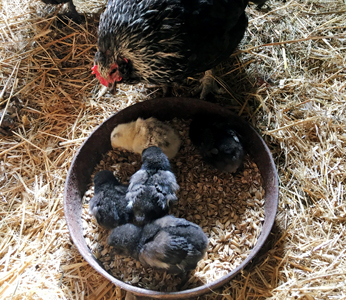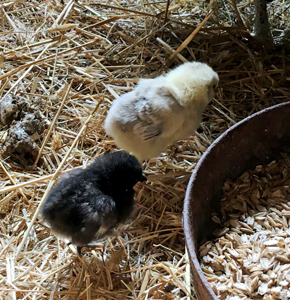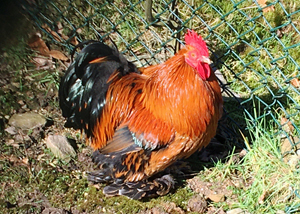 Our cats are Sacred Birman and the female is named Tinywinys Ålisa Ålala, called Ålisa. She loves cuddles and purrs as loud as a lawn mower if you ask our daughter Elina. Our male is called Tinywinys Qng Qrant and is called, maybe not that apparent Masse. This because Elina said he was as white, fluffy and sweet as a marshmallow. And as Marshmallow is a bit long to use as a everyday name we ended up calling him Masse.
Masse is rather laid-back and loves beeing a cuddle-and-cosy cat. He thinks hunting is overrated but likes to use the horses boxes with straw as his own litterbox. He has a rather interesting sleeping position.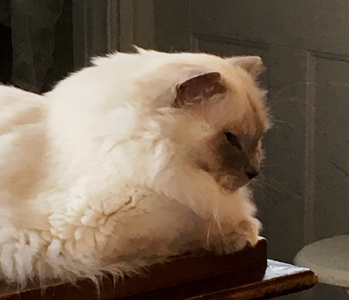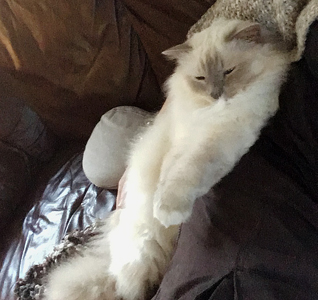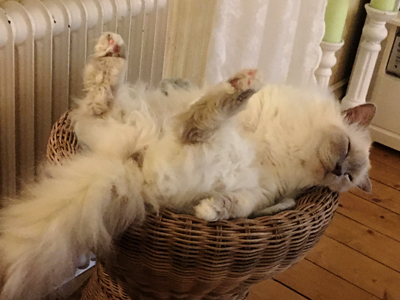 Ålisa, on the other hand likes to hunt and often brings mice and (unfortunately) birds. She helps with the laundry as you can see or lays on the dashboard, in (!!!) the sewing machine when I sew or in(!!!!) the water when watering the flowers! And as all girls she also likes jewellery!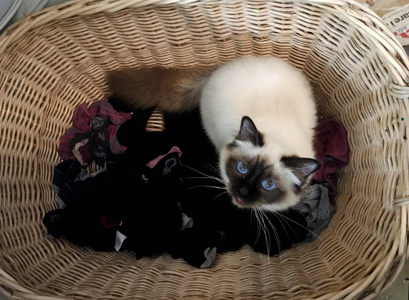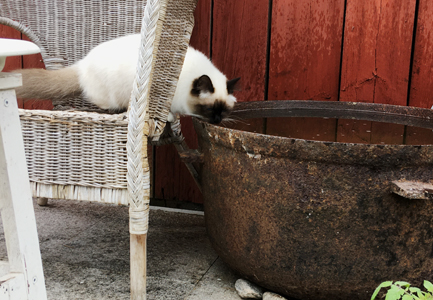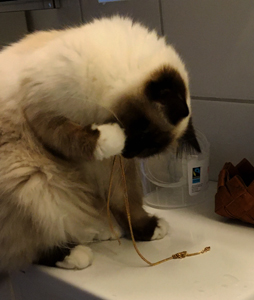 In the summer we often have kittens as we cooperate with a breeder but not this year though.
And then there are all the whild animals. But they are not always so wild...