We are a part of the

concept! (Swedish farmstay).
Kalles house Enganäs in Fölshult
We are very proud of the fact that we now have free Wi-Fi and a TV with Cromecast in Kalles house! This means that the TV works as a smartTV with access to internet and you can watch free play channels and more. If you have prescriptions for TV-channels or Netflix be sure to bring your settings as they might work here as well.
Bring your own horse/horses and spend a vacation in Småland! Live close to a farm but still private.
You can ride, bike or walk on miles and miles of gravel roads or use the training paddock 100 m futher down the road.
You can lay in the lawn and watch your horse/horses grazing in a pasture next to the house.
You can relax on the patio and have a chance to see roe dear, crane, moose or little critters and birds.
---
I am sorry, but we have no time to keep the site up to date concerning bookings. The best way to find out which weeks are free is to send us an e-mail.
---
Facts about living here:
Enganäs is an old logbuilt cottage which was moved to our land around 1910. It has added insulation downstairs and the outside boarding is painted Falu-red with white corners as is traditional in Sweden. The house is renoveted, clean and fresh with handpicked furniture to make the house light, comfortable and cozy without loosing the feel of countyside, uniquness and charm. The furniture are not leftovers from our house, we have bought, fixed and sewn everything with the intent of Kalles house Enganäs in our minds.
History.
Kalles parents leased the land from our ancestors untill 1970 when the owner of the house (Kalle) wanted to buy the land as his own. The house vas used on a year around basis untill 1983 when it was sold to the first Danish people. We were given the chance to buy it back in 2010 by the owner since many years and our very good friends since many years. The house is not solitary but privately set without close neighbors and about 400 meters from our farm but in conjunction with our fields.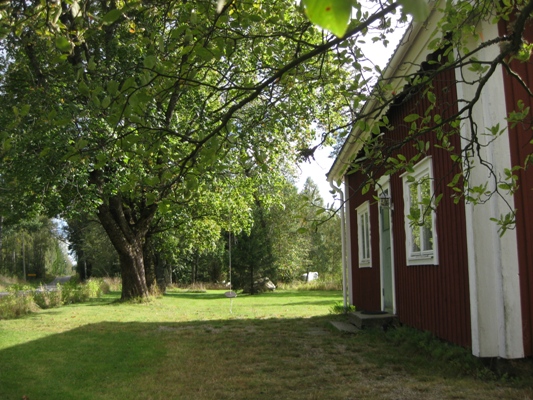 On the bottom floor there are a hall, a kitchen, dining room, living room, toilet with shower and a very very small built in porch. On the second floor there are two bedrooms which you reach through a very steep set of stairs. On the bottom floor the roof is only 197 cm high. There are new oil filled radiators in every room (but the porch) and a soapstone(?) fireplace with a glass door which gives both heat and a cozy feeling to the sitting room.
In the kitchen you can make dishes viewing fileds and forrest. The worktops are at normal height, not back breaking low, which is not always the case in Swedish old cottages. Everything is clean and fresh. A nice old fashioned set of plates and wineglasses on feet makes it possible to do up the dining room in a romantic fashion. Glass top stove and oven, refrigerator and deep freezer are of newer models and there are a microwave oven, coffee maker, electric whisk and a toaster etc.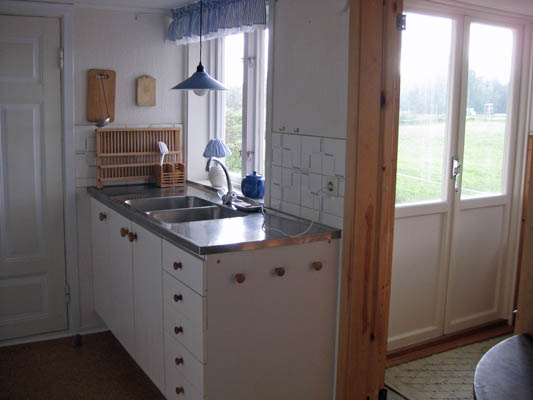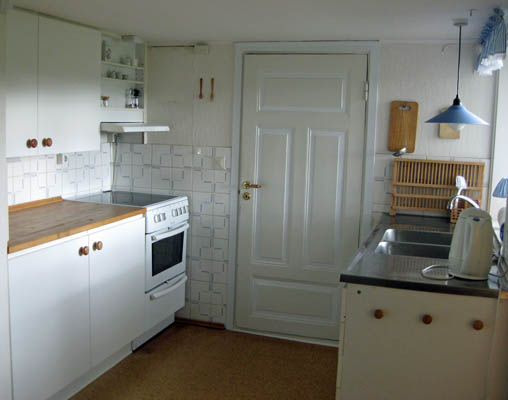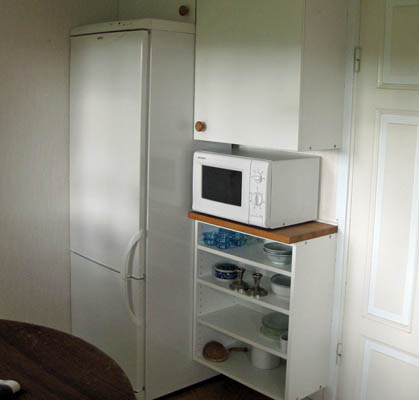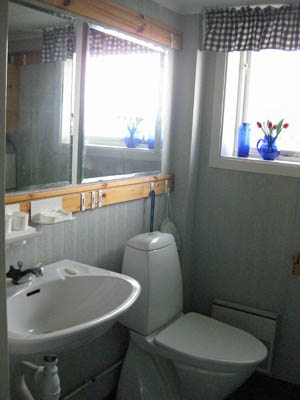 The toilet with large mirrors and a shower with a glass door that folds back and plenty of hooks and a few shelves should prevent things form ending up on the floor.
Dining room with an antique kitchen sofa that seats several, newly made curtains and pillows gives it a calm and countryside atmosphere.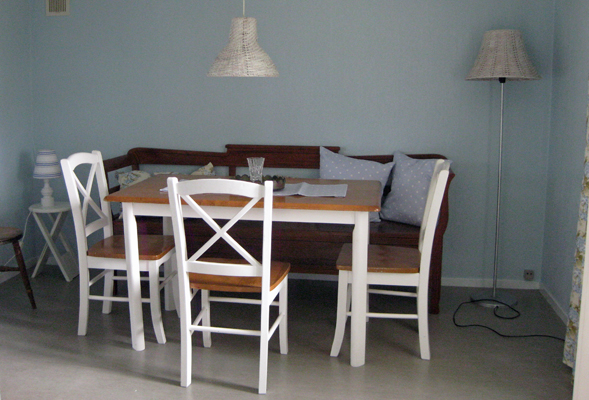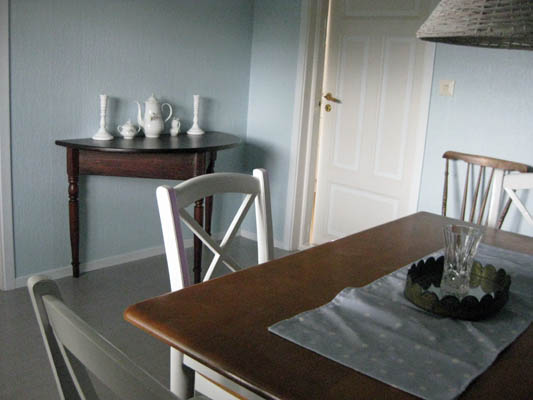 Sitting room with a comfortably soft couch (which folds out to a double bed), two armchairs and a soapstone (?) fireplace with a glass door for wood burning to give it a warm feel. Reading lights and a flat screen -TV increases the possibilities to enjoy even a rainy day or two.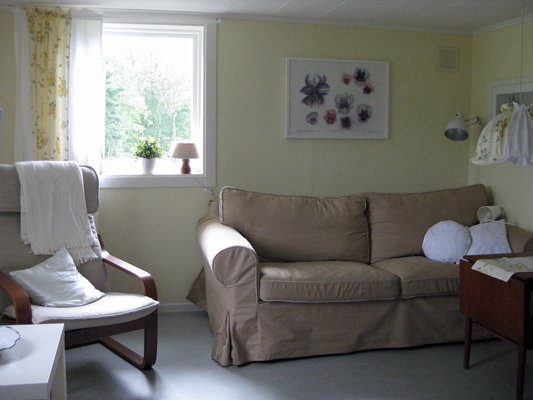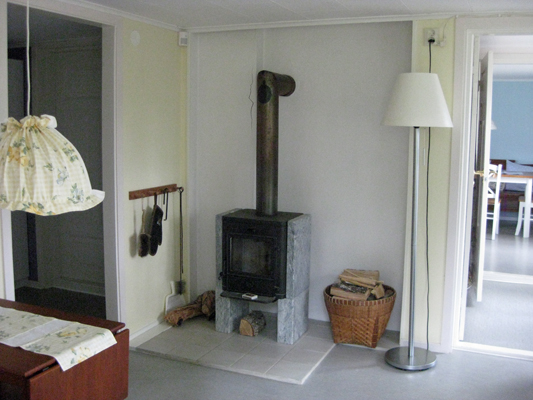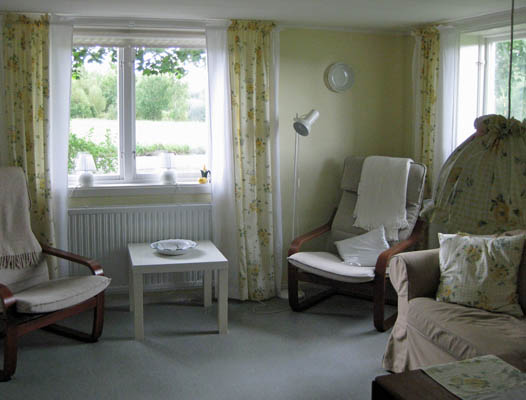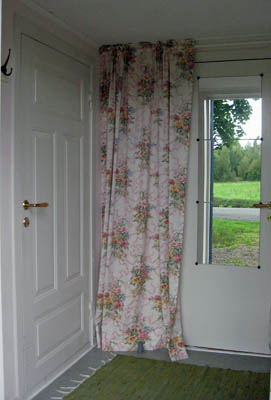 Storage is mainly in the closet behind the mirrors in the hall (on the photo above to the right) and in two closets between the toilet and the kitchen.
From the tiny "veranda" on the back of the house you have a wonderful view of the fields and the leaf forest in the back. And if you get out on the porch you can enjoy the evening sun sitting in white traditional patio furniture made of wood.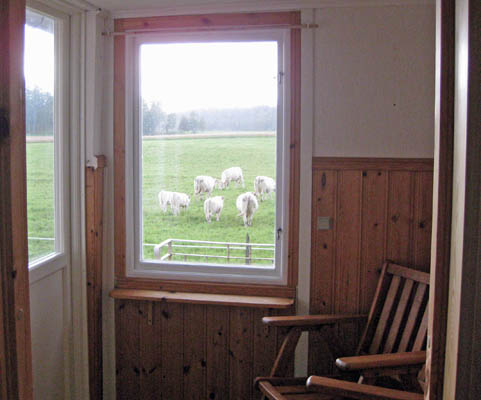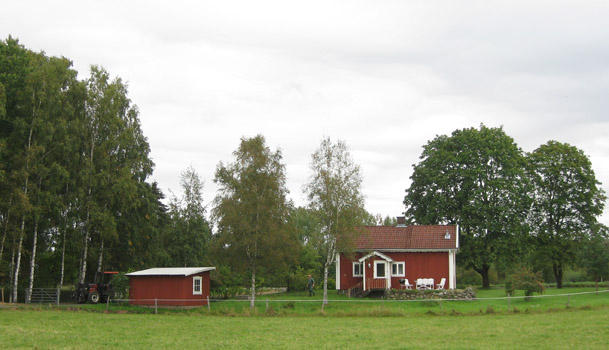 The second floor consists of two bedrooms furnished with spring mattresses (type of continental beds). The walk-through white bedroom is large and holds a desk and a single bed besides the large double bed and bedside tables and reading lights.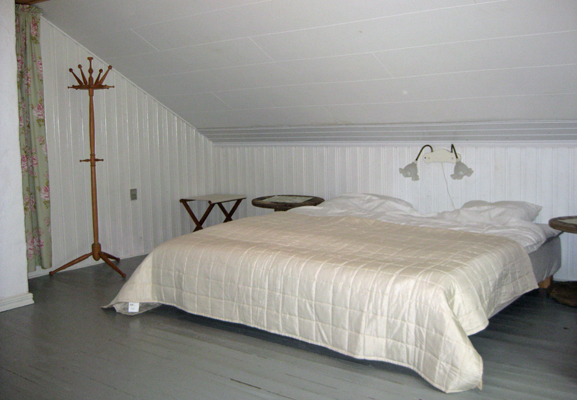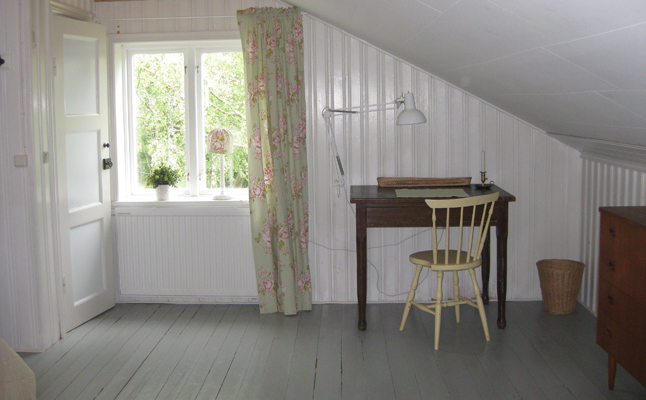 The small bedroom is summeryellow with lace curtains and is furnished with two single beds with reading lamps and a small desk. In both bedrooms there are also drawers.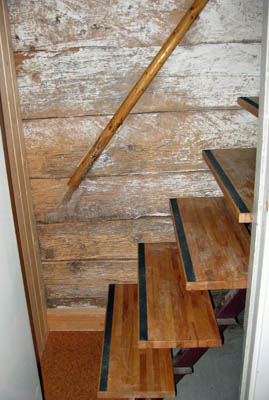 Note the steep but slipp prevention treated set of stairs with doors both the on top and at the bottom.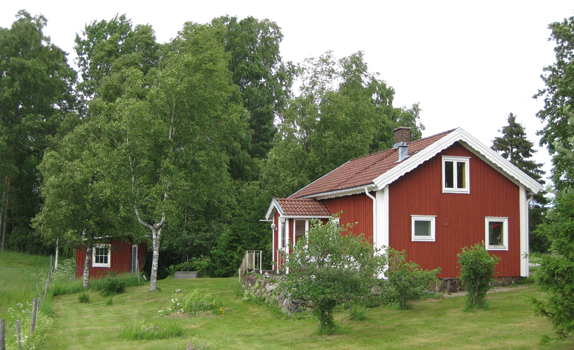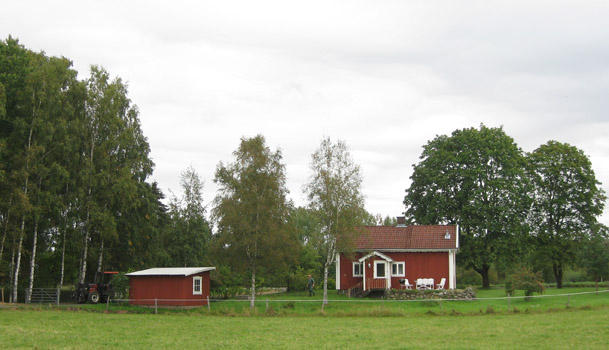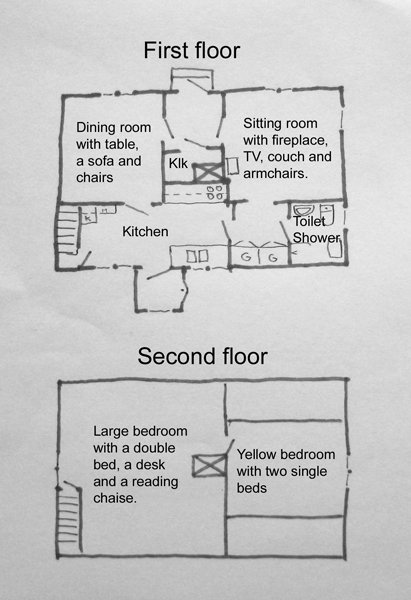 Around the house is a garden with a veranda and white wooden garden furniture. Pets are welcome. No smoking indoors. Own parking for at least two cars, more parking space at our farm.
Washing machine is installed in the woodhouse and there are drying possibilities both outside and inside.
If needed you can borrow a crib, high chair and a bathroom stool from us. But you must ask for this at least one month before arrival or even better, when booking!
Summarizing: The cottage is roughly 80m2 and is furnished with five spring beds plus a couch that folds out to a double bed. It is equipped with free Wi-Fi, a soapstone (?) wood burner with a glass door, refrigerator, deep freezer, glass top stove with oven, microwave, coffee maker, electric whisk, toaster, bathroom with shower, flat screen TV with satelite access. Washing machine in woodshed. The cottage has added insulation downstairs and is equipped with new oilfilled radiators in all rooms.
Additional info:
As beeing part of Bo på Lantgård concept we provide a natural environment for guests to visit and see how we work at the farm. You are welcome to play in the hay, spend time with the horses, pick eggs, pet the cats and sit in everything from the tractor to the ride-on lawnmower and more! But as this also is our home we hope you can respect our privacy from time to time. It is also our every day normal life and there is very much to do on a farm and we also have work and school to do so the best way is to set a meeting in the beginning of the week so we can determin what you feel like doing.
About our horses:
We would like to make clear that the Friesian horses are not available for guests to ride or drive. They are just not suitable. This means that no riding or driving is possibel any more. But included in the stay is spending time with the horses grooming and petting them.
Other information:
Here are a few lakes around but when we are going bathing we go to Virestadssjön which is located some 10 km east, or to Bökhult some 10 km west towards Liatorp. Or you can try Vislanda which has lovely outdoor heated pools around 14 km to the north!
Closest place to buy food is at Liatorp en 10 km south or at Vislanda some 14 km north.
Closest food serving institution is Liatorps restautant and pizzeria some 10 km south. Avery high class restaurant is Möckelnsnäs herrgård outside Diö, some 15 km south. In Diö you can also find a pizzeria. In Vislanda, some 14 km north, there is an inn as well as a pizzeria and a hotdog place. The next larger city is Älmhult, 25 km south where you also find all of the above. And in Älmhult you will also find Ikea with a museum you should not miss!
Shopping is great in Växjö some 45 km north with several malls along the shopping street and a big shopping center called Samarkand with a brand new large mall called Grand. Here you also find theatre, movies and all sorts of restaurants.
Also you can take time to visit places like Carl von Linnés Råshult where he grew up, Glasriket (glasscountry with Kosta, Orresfors and lots of other glass blowers), Möbelriket (furniturecountry) with Lammhult as a centre, the trotting arena in Tingsryd, High Chaparall, Leos lekland (Leos play land), Östregårds loppis (large secondhand), Trädgårdskafféet i Öhr (lovely gardencafé and -shop), Huseby iron mill, maybe some summer countryside auctions (search the internet) and lots of other places. If I can find the time I might be able to put links here...
If you want to bring your horse/horses you need to contact us.
we have electric fenced pastures close to the cottage with water barrels.
Miles of gravel roads. Access to private training paddock, only 100 m from the cottage, fenced and with jumping fences. Lockable woodshed where you can keep saddle and bridles.
The rent for the house is 4000 SEK per week. Including Wi-Fi and firewood. Excluding electricity.
(During low season the house can be rented shorter periods which costs 2100 SEK. That includes tree nights and for additional nights you pay 700 SEK.)
The rent for the pasture at Kalles is 500 SEK per week including hay if the grass is not enough.
The house is to be well cleaned before you leave, or you can buy the service for 700 SEK.
Welcome!
For contact information click here.